Advertisement


Name: GSM House Alarm System-G70
Support Contact ID Communication protocol
LCD Display, With Touch Keypad

G70 is a hi-tech GSM Alarm System developed by VSTAR which is integrated with several advanced technologies into this single alarm unit. The G70 Alarm System has a stylish design with touch pad control with LCD illumination display. Beside the autodial and auto-sms features, it can also send sms notifications when system is armed/disarmed, or when power is cut.
This GSM Alarm plus PSTN model provides double phone line protection. It can automatically switch to GSM dailing when telephone line is cut.



Main Features:

Adopt GSM Cellular Network & Telephoneline Network For Alarm Transmission.
With LCD Screen displays Date, Day of the week, Time, and current Armed Status, build-in Touch keypad
Supported Languages: Simple Chinese Traditional Chinese English German French Russian and more.
29 wireless zones (Each zone supports up to 4 sensors) and 2 dedicated zones for remotes (Supports up to 4 remotes or wireless keypads per zone)
8 more wired zones (Each zone supports 1 wired sensor)
Can dial up to 5 phone numbers in sequence, 5 SMS mobilephone numbers.
Call and SMS both are compatiable with ADEMCO Contact ID.
Arm Disarm the system by: Main Host(Keypad), Wireless Keypad, Keychain Remotes, or even remotely by phones.
Check doorwindow status automatically (This is when the system is disarmed only, if a door is opened, it will sound fast "bi bi bi")
Support wireless "ding-dong" doorbell function (need to buy extra doorbell from us)
Non-volatile chip, information stored automatically when off power
Record up to a 10 second voice message, When alarm is triggered, it will automatically auto play the voice message over the phone.
Alarm Sounds if Phone Line is Cut
Remembers programming settings when power is disconnected
Available in both ACDC with Low-voltage Indicators.
Learn sensors to alarm host panel, very easy operation.
Supports Door. Window. Motion. Smoke. Heat. Glass Break. Gas Leak. Carbon Monoxide Detector. etc.
Support ADEMCO Contact ID, can connect to CMS (Central Monitoring Station).
Store 100 alarm records and 100 armdisarm information.

Standard Package Includes:

- Touch screen Alarm system (control unit) ? 1 pc.
- Wireless PIR detector (New design, reduce false alarm)? 1 pc.
- Wireless door (gap) sensor ? 1 pc.
- Remote controller? 2 pcs.
- Antenna ? 1pc.
- Wireless Sound&flash 110dB/0.3m ? 1 pc.
- Power adpater ? 1pc.
- User manual ? 1pc.
Advertisement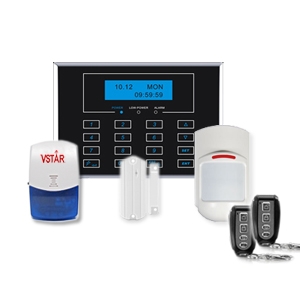 burglar home security alarm systems